After 3 tedious days of this week, we're finally here with a few industry updates for those curious about what's been brewing worldwide in the marketing sector. 
We are sure you can guess at least one of them. But let's not play along for long and dive straight into the deets. 
#1 Andrea Soriani takes over Lucid Motors as VP of marketing: 
With more than 25 years of global experience in the industry, Mr. Sorian has great expertise in marketing strategy, communication, client experience, and other important marketing segments. 
He had previously worked for prestigious companies like TAG Heuer North America, Maserati, and Ferrari. 
Lucid Motors aims to set new industry benchmarks with this partnership and create luxury electric vehicles with the idea of contributing the most to the human experience.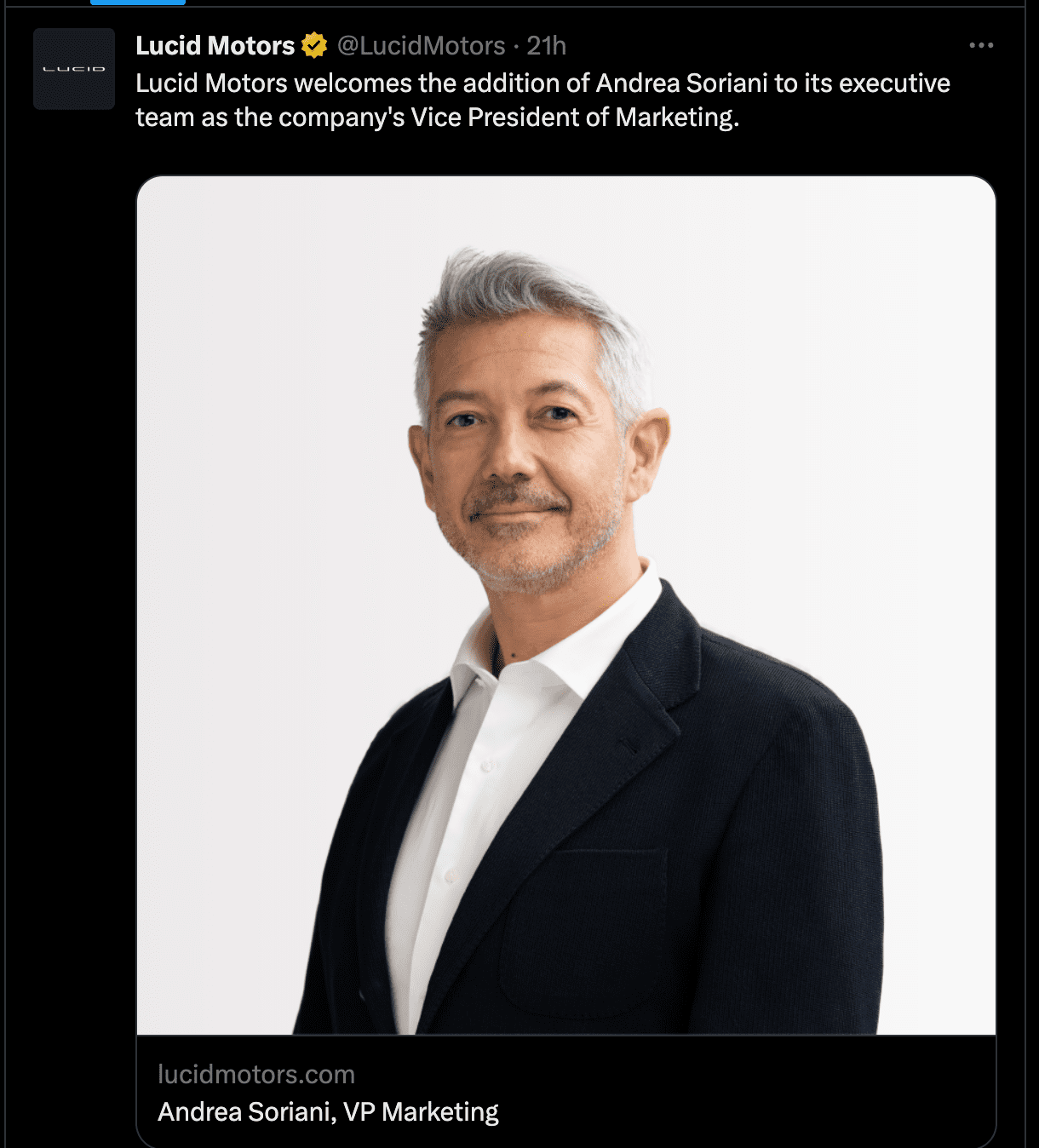 The company took to Twitter to announce the collaboration on 9th May, leaving the brand's followers surprised. 
#2 AI as an assistant and not a company resource 
According to a recent article published by Insider and the latest Microsoft survey, the industry is indecisive about AI's role and the potential repercussions of such a technology. 
People, especially in the marketing and advertising industry, are astounded by the capabilities of the talked about AI tool named Chat GPT.
While some are going gaga over the potential of the tool, others are raising strong concerns over the repercussions of using such a technology that can undo the hard work of many people in seconds. 
According to the article, a good percentage of corporate employees are worried about Chat GPT and similar AI tools replacing them. Still, an even more significant percentage of people are excited to take the workload off their shoulders and make it a part of their job. 
"While 49% of those surveyed said they are worried AI will replace their jobs, even more — 70% — said they would delegate as much work as possible to AI to lessen their workloads" – Insider. 
Guess, now only time can answer this for us. 
#3 Chatbots as Drive-thru executives? 
Will AI take over or not is still a debatable issue, but the pace at which businesses are integrating it into their business models is definitely telling us all something. 
Wendy's – a global fast food chain restaurant, recently announced its collaboration with Google Cloud to test its Fresh AI, engineered to ease drive-thru ordering for customers. 
With the very motive to revolutionize the quick service industry, Wendy's decided to create an LLM-powered AI chatbot that would be launched in Columbus for the first time in June. 
The company is expecting to deliver a truly personalized and frictionless customer experience on a larger scale with the help of this evolving technology. 
Similarly, many companies are taking the road less explored to deliver maximum customer satisfaction and a memorable experience with the help of AI. 
Regardless, this article has been written by a human! 😉